With FTA LOGISTICS LTD you have over 20 years of experience in the world of waste movement.
Whether you like to transport a consignment of 1 kg or of 10.000 tonnes, together we will ensure that the shipments reach safe and sound the final destination, either for recycling purposes and/or final disposal.
Depending on the terms of transport, FTA Logistics can provide world wide transport services from "doorstep/site" or "ex-quay" up to delivered "doorstep" final destination.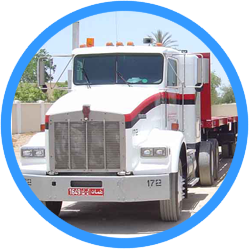 All aspects, which might be involved, can be covered whether being:
Export and/or import customs formalities
(transit) storage
Shipping documentation
Transportation over land & sea and/or through the air
Past and present projects in Africa, Far East and South America include a varied range of hazardous and non-hazardous waste commodities.
All transportation of wastes are carried out in strict compliance with the Basel Convention Regulations, EU Directive 1013/2006 "Transfrontier Shipment of Waste Regulation" and the IMDG & ADR regulations.
Through FTA Logistics you can rely on a network of experienced logistic service providers.
For any query or information on transportation please contact FTA.